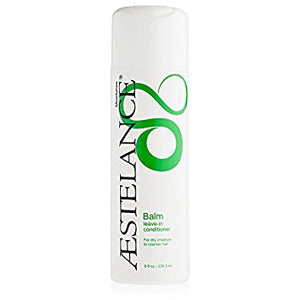 Aestelance Balm Leave-In Conditioner
Regular price $30.00 Sale
For dry (medium to coarse) hair

Our Balm moistures and softens coarse, curly hair and coarse, damaged hair. We've combined proteins, botanicals and seaweed extract to nurture both your hair and scalp. Balm has a superb detangling effect and it also screens out the sun's damaging rays to prevent color fade. 

Instructions

After shampooing hair, work a small amount into the hair. Comb through. No need to rinse out. Can be applied any time to tame the hair and add shine. TIP: For long hair or damaged hair apply to ends before shampooing to protect from drying out during the shampooing process. To keep your hair healthy, ask your ÆSTELANCE Specialist to recommend cleanse and design products that are right for your hair texture, condition and style. 
Key Ingredients:
Hibscus and seaweed extract: highly moisturizing. Panthenol: strengthens and moisturizes the hair. Aloe Vera Gel:soothing and moisturizing